Can Hair Loss Medication Treat COVID-19
With thanks to my colleague Dr Parsa Mohebi of California for bringing this to my attention:
"DHT inhibitors like finasteride and dutasteride can help with hair loss prevention. Scientists have found a relationship between these drugs and COVID-19. DHT blocker medications are also known as 5-alpha reductase drugs. The medication may alter the pathway that the virus uses to enter the target cells or it may work through other mechanisms. We know that patients who have used these medications have done better after being diagnosed with COVID-19. Can it be considered or used as a treatment option for this disease? To answer to this question, we will go in-depth about our current status with the pandemic and what the study really means (for those of you who love details about scientific studies).
COVID-19 Update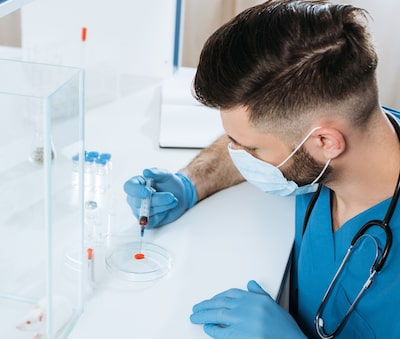 The ongoing COVID-19 pandemic is nearing what many hope will be a breakthrough in finding a cure for the disease. The possibility of a vaccine for COVID-19 has been discussed for months. A Centers for Disease Control and Prevention panel is scheduled to vote this week on who will be the first people eligible to get the coronavirus vaccine. In addition, Moderna has requested emergency clearance from the Food and Drug Administration for its COVID-19 vaccine. Moderna applied for their emergency clearance after Pfizer applied for authorization back in November.
While the first doses of one of these vaccines are expected to be distributed before the end of 2020, a recent study shows 5-alpha-reductase inhibitors work to reduce the remission time of COVID-19. The results come from a randomized, double blind, placebo controlled interventional trial conducted on 130 SARS-CoV-2 positive men.
The Background Behind the Study
The entry of SARS-CoV-2 into type II pneumocytes depends on the proteolytic enzyme known as TMPRSS2. The promoter of this enzyme in humans is an androgen response element which means androgen sensitivity could be a possible risk factor for COVID-19.
There was a previous report, about a retrospective cohort analysis, that showed the protective effects of 5-alpha-reductase inhibitors in COVID-19. It was also shown that men using 5-alpha-reductase inhibitors were less likely to have to be admitted to an intensive care unit than men not taking 5-alpha-reductase inhibitors. Plus, men that were shown to use 5-alpha-reductase inhibitors had a greatly reduced frequency of symptoms than men shown to not use 5-alpha-reductase inhibitors as outpatients.
Given the above information, the study was conducted to determine if 5-alpha-reductase inhibitors can be considered to be a beneficial treatment if they are given to a patient after a SARS-CoV-2 infection.
How the Study was Performed
The study was conducted as a double-blinded, prospective, investigative study of dutasteride, which was also randomized, for the treatment of COVID-19. The subjects in the study were people confirmed as being positive for SARS-CoV-2 and treated in an outpatient setting.
The study had a number of endpoints, revolving around the remission times, for a set of symptoms predetermined for the study. The predetermined set of symptoms included:
Having a fever or a feverish feeling
Sore throat
Cough
Body pain or muscle ache and pain
Shortness of breath
Headache
Nasal congestion
Fatigue
Runny nose or nasal discharge
Diarrhea
Vomiting or nausea
Loss of appetite
Loss of smell or taste
Study Results
A total number of 130 SARS-CoV-2 positive men were included by the research team in the study. There were 64 test subjects included in the dutasteride arm as well as 66 test subjects included in the placebo-controlled group.
The study results showed that the difference in the average remission times for fatigue or ageusia (which is the loss or impairment of the sense of taste) or anosmia (which is the loss or impairment of the sense of smell) was statistically different between the two groups. The results showed, for the dutasteride group and the placebo group respectively, 5.8 days vs. 10.1 days for fatigue and 7.3 days vs. 13.4 days for either ageusia or anosmia.
The study results also showed that the total amount of remission time was greatly reduced for the men in the study that were give dutasteride. Their remission time was 9.0 days as opposed to the 15.6 days of remission time seen in the placebo group. When the loss of smell and taste are excluded from the results, the average time for total remission was 7.3 days for the dutasteride group as opposed to the 11.7 days seen in the placebo group.
Overall, the study results showed that the total remission time for men that used 5-alpha-reductase inhibitors was greatly reduced compared to men that were not taking the 5-alpha-reductase inhibitors.
The Study and how it Relates to Hair Loss
Patients that are suffering from hair loss might be curious to learn how the above study relates to the loss of hair on the scalp.
Dutasteride and finasteride are the two most frequently used 5-alpha-reductase inhibitors. These medications are used to inhibit the conversion of testosterone into dihydrotestosterone which is the androgen that causes male pattern baldness. Finasteride has been FDA approved for treatment of male patterned baldness. Even though dutasteride is approved as a male pattern baldness treatment in some countries, it has not yet received the approval of the FDA for use as a hair loss drug in the United Kingdom. Instead, it is approved by the FDA as a drug to combat prostate enlargement. It can only be prescribed as an off-label treatment option for hair loss."
Patients interested in learning more about dutasteride, as well as other hair loss prevention methods, are invited to to schedule a consultation with Dr Rogers.